CNSL (Cashew Nut Shell Liquid) Resin Mortar Manufacturing Company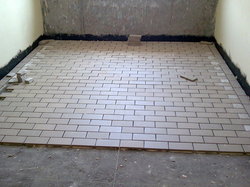 CNSL resin mortar is a special kind of mortar that is used for lining of acid proof bricks and tiles. CSNL is an acronym that stands for "Cashew Nut Shell Liquid". Galaxy Enterprise is one of the largest CNSL resin mortar manufacturers in the country. This mortar provides excellent adhesion on ceramic surfaces. It is also highly resistant to alkalis and acids and can easily withstand high temperatures of up to 170 degree Celsius. This resin mortar has a plastic nature.

Features of CNSL Resin Mortar
Resistant to chemicals

Resistant to alkalis, acids, and alkaline solutions mixed with acids

Can withstand high temperatures (up to 170 degrees Celsius)

Ideal for making lining for acid proof tiles and bricks

It is also used to join stoneware pipes

Provides resistance to heavy impacts

Has excellent adhesion properties with concrete, ceramic, and metal surfaces

Method of Application
Powder and resin should be mixed in a ratio of 3:1 to get workable mortar. Mixing should be done in a clean bowel that is enameled. Keep on adding powder to resin till you get the desired mortar. This mortar should be used within half an hour of mixing. As mixing of powder with resin releases heat, you should make a thin layer of the product and spread it in the bowl. The mortar takes 2-3 hours to set and then the surface is ready for use.

The name of Galaxy Enterprise ranks at the top among CSNL resin mortar exporters because of high quality and reliable performance.