Insulation Bricks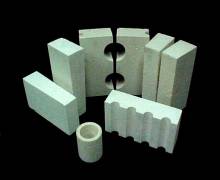 Insulating bricks materials are highly specialized bricks that are used to line kilns a furnaces as temperatures in these applications can be as high as 1000 degrees Celsius. Thermal conductivity of these bricks is quite low but their structural integrity is such that they can easily withstand these high temperatures and also bear thermal shocks and abrasion.
Insulating bricks are soft and very lightweight. They can be easily cut by a handheld saw to fit inside the lining of a furnace. Air is considered to be a very good insulation material. These insulating bricks contain tiny air spaces in the shape of honeycombs to have great insulating properties.

There are many insulation bricks materials manufacturers and exporters available in India but the name of Galaxy Enterprise ranks at the top. This is because the company makes high quality insulation bricks that give consistent performance and are also very cost effective. Due to this our products are much popular in Kenya, UAE, Nigeria, Nepal, Turkey, Saudi Arabia and South Africa.
As far as insulation bricks materials is concerned, they are mostly made using silica and alumina. Both these substances are considered great for making refractories. The chemical composition of insulating bricks made by Galaxy Enterprise is as follows.
Silica- 61%

Alumina- 37%

Ferric Oxide- 1.6%

Insulation Bricks Material
We can manufactures insulating bricks material with different compositions and thermal conductivities to suit the specific needs of our clients. Galaxy Enterprise uses china clay and kyanite as raw materials for making insulating bricks. One of the most popular insulating bricks manufactured by Galaxy Enterprise is HFK. These bricks are known for their high insulation and cost effective prices.