Foundries for Ceramic Blanket Products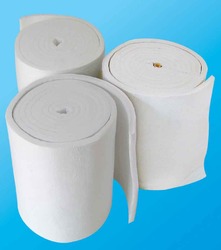 Ceramic blankets are specially designed mats that are known for their very high thermal resistance and low heat storage. These blankets are made using spin ceramic fibers having high strength. They are additionally needled to give them great handling strength.
These products find many heat processing applications in various industries. These blankets are not only very thermal efficient but also very lightweight. Galaxy Enterprise is one of the largest manufacturers and exporters of ceramic blankets products in India.

Ceramic blankets have a smooth surface and no organic adhesive is used in their manufacture at Galaxy Enterprise. Pure blankets have a very high insulation value because of the presence of heat resistant refractory material that is used in their manufacture.
Our products can be used in conditions where temperatures lie in the range of 1200-1400 degrees. They are available in different densities (64, 96, and 126 units) to provi9fe for effective and efficient thermal management. Mechanical needling of our ceramic blankets gives them additional strength.

Features Value :
Very low thermal conductivity

Very low heat retention capacity

Do not create any smoke

Lightweight and flexible

Available in many densities

Great handling strength

Resistant to corrosion

Applications Area :
It used in many industries because of their low thermal conductivity. These include
Boilers

Turbines (gas and steam)

Gasketing

As door seals in furnaces

Kilns

Generators
Ceramic blankets made by Galaxy Enterprise provide excellent fire protection and sound absorption.