Kiln Furnace Products Manufacturing Company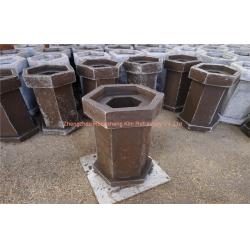 Kilns are devices that are used in many industries for calcification of several materials for a long time. Many industrial products like cement, refractories, lime, iron ore pellets, alumina etc are produced using kilns. These kilns also allow for roasting of ores to extract metals from them. Kilns are actually cylindrical vessels that are inclined slightly from the horizontal with raw material fed into them form the higher end as they rotate continuously.
There are many kiln manufacturers and exporters in India but the name of Galaxy Refractories ranks at the top among them. This is because of the high quality and efficiency of the kilns made by the company that are being used by the clients in various industries in the country.

Tailor made kilns for clients
The rotary kilns made by Galaxy Refractories are not only highly functional and very durable but they are also highly resistant to corrosion. The company has a long experience of design and manufacture of rotary kilns as per the industry and specifications of its clients.
We have a research and development team that comes up with tailor made solutions for our clients to deliver rotary kilns that comply with highest quality standards and give optimum performance. We make both direct fired as well as indirect fired rotary kilns.