Indian Porous plug well block GP-II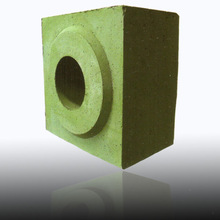 Porous plug is a crucial component in any steel making process. As the name indicates, it is manufactured utilizing porous raw materials. These porous materials release tiny bubbles over the surface of the molten steel to improve its quality.
There are many companies manufacturing these products but the plugs made by Galaxy Enterprise are most popular among the clients. We make a wide range of Porous plug well block in various shapes and sizes according to specifications of our clients. We offer pre cast directional purging porous plug well block GP-II or GP-2 to our customers.

These products manufactured by Galaxy Enterprise improves the efficiency of the steel making process as it obliterates the requirement of transfer ladle for gas purging treatment. There are many advantages of using the porous plug well block made by us. These include
More efficient and effective purging that extends refractory life

Makes has distribution even

Eliminates many costly treatment measures

Makes operations more safe

No components that require mounting

The reason why Galaxy Enterprise ranks at the top among all porous plug well block manufacturers is because the company has a wealth of experience and expertise in making these plugs. We produce a vast range of these plugs suiting the requirements of its clients.
The products made by Galaxy Enterprise are very easy to install. They are also very low on care and maintenance. The porous plug well blocks made by us are well equipped and show great resistance to thermal shocks.