Indian Based Nozzles and Well Blocks Products Manufacturers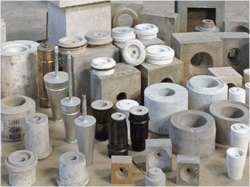 Nozzles and well blocks are continuous casting refractories that play an important role in controlling the flow of molten steel during steel making process. Galaxy Enterprise manufactures high quality nozzles and well blocks that give high performance consistently in applications involving high temperatures. The company manufactures alumina carbon fired and magnesia carbon fired nozzles and well blocks that are used by our clients in various industries. We can make these as per specifications and industrial use of our clients.

One big problem faced by clients involved with steel manufacturing is the clogging of the walls of nozzles. Also, these nozzles also get eroded quickly because of inclusion of metallic impurities. These impurities sinter and get attached to the walls of nozzles that are made from alumina refractories.
These problems have been seen to lead to inclusion problems in the cast product. But the nozzles made by Galaxy Enterprise are free from clogging even after continuous use in steel making process. This is the reason these nozzles are in high demand among the clients.

Every nozzle manufactured by Galaxy Enterprise is engineered according to customer specifications with the end objective of producing cleaner steel in mind.

Features of nozzles made by Galaxy are as follows.
Refractory pore size that is optimum

Unique design of argon distribution channels

Nozzles that contain argon within themselves

Options for leak free argon connector

Unique design and use of sealant materials

We can supply nozzles and well blocks in all shapes and designs as per client requirements.