Ceramic Fiber Blankets India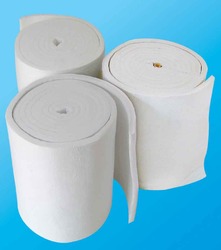 Ceramic fiber blankets are special blankets made using refractory materials. They are used in many industries in heat processing applications because of their extremely low heat storage capabilities.
In addition, it offers great resistance to thermal shocks. Galaxy Enterprise is one of the major ceramic fiber blanket products manufacturers and exporters in India. We make them using ceramic fibers that are spun and have high strength. We later needle these blankets to give them high handling strength.

Process of manufacture of Ceramic Fiber Blankets :
Ceramic fiber blanket is actually a continuous blanket made using pure materials that are melted high temperatures. These products are sometimes referred to as alumina silica blankets because of the predominance of these two refractory materials used in their manufacturing. It made by Galaxy Enterprise have a smooth texture but possess heat resistance equivalent of a hard refractory material.
These products have outstanding sound absorption and also provide very good fire protection. Galaxy Enterprise makes these ceramic fiber blankets at a huge manufacturing plant using imported machines. We can provide these blankets in varying thicknesses and width to our clients in various industries.

Features :
High thermal efficiency

Lightweight

Available in varying thicknesses and densities

High mechanical strength

Resistant to fires

Applications of Ceramic Fiber Blankets :
Furnaces, kilns and linings of boilers

Heater insulation

High temperature gasketing

Glass furnace insulation

Lining of steam generator

Seals of soaking pits

Filtration at high temperatures

Equipment for incineration