Ceramic Anchors Manufacturing Indian Company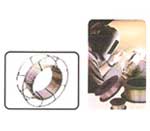 Ceramic anchors play a very important role of holding the lining of the refractory bricks on to the shell of the furnace. These anchors work in very arduous conditions with a wide range of temperatures and thus made of stainless steel in various shapes and designs. Galaxy Refractories has been making these ceramic anchors for industrial applications for its clients for a long time. V shaped anchors with a wavy design are considered the best for use in castable lining. We make different shapes of these products which are depending upon the requirements of our clients and whether they hold a single layer lining or a double layer lining.

Shapes of Ceramic Anchors made by us:
V shaped anchors

Y shaped anchors

V shaped wavy anchors

Corrugated anchors

UV anchors

Features of our high quality products :
Galaxy Refractories is one of the top ceramic anchor manufacturers and exporters in India. Anchors made by the company keep the lining of the furnace in its position without fail. This is because a ceramic anchor made by the company works on the principle of ice tongs that are used to hold ice cubes. There is never a failure of these items because of metal fatigue.

Another great feature of these products made by Galaxy Refractories is that they are very flexible in use because of multi joint arrangement. It is this flexibility of these anchors that makes them very popular among the clients. The design of these anchors is such that it allows secure attachment with the lining of the furnace irrespective of its surface.