Ceramic Fiber Board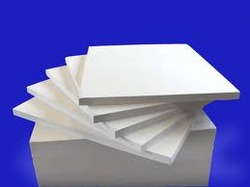 Ceramic fiber boards that are made using fibers and binders offer high degree of thermal insulation and hence find use in applications involving high temperatures. These boards are so good at absorbing thermal shocks and chemical shocks that they can be used in direct contact with flames.
Galaxy Enterprise is manufacturers of ceramic fiber boards that find applications in many industries. We are one of the largest ceramic fiber board manufacturers and exporters in India and abroad market. Our products are loved by clients because of their low thermal conductivity and great resistance to thermal and acid shocks.
It is also offer good resistance to reduction and oxidation. We can supply these products in different lengths and thicknesses to our clients according to their specifications regarding densities and temperature ratings.

Manufacturing Process :
Galaxy Enterprise uses ceramic fibers and binder to make ceramic fiber boards. It have very low organic content. The mixture of fibers and binders is vacuum pressed to be converted into boards. These products are heated to give them good mechanical strength. The process of making ceramic fiber boards is called wet forming.

Features :
Low thermal conductivity

Offer great resistance to thermal shocks

High mechanical strength

Applications of Ceramic Fiber Board
Our ceramic fiber boards find applications in many industries where temperatures involved can be as high as 1400 degrees Celsius. These include furnaces, boilers, and kilns in various industrial settings. We can supply boards that can withstand temperatures up to 3000 degree Celsius.