Manufacturers and Exporters of PCPF Blocks Products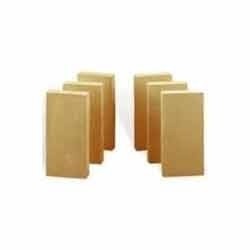 PCPF blocks are used in the steel manufacturing process. They are also used with steel teeming ladles to enhance the life of bottom lining. They are also widely used in construction industry. These blocks are actually pre cast and pre fired which is why they are simply called PCPF blocks.
Galaxy Enterprise is one of the largest PCPF blocks manufacturers India. It supplies high quality PCPF blocks to its clients in various industries across India and abroad. The blocks made by the company are generally one piece and solid. They come in various shapes and designs to suit the specifications and requirements of our clients.

The PCPF blocks made by Galaxy Enterprise are in high demand among our clients because of their consistent and high performance in steel industry and in hearths and furnaces in other industries. The PCPF blocks made by the company are known for their high abrasion resistance and long life. They are highly resistant to high temperatures to make them ideal for use in furnaces.

Features of PCPF Blocks Products :
High resistance to thermal shocks

Resistant to erosion

Resistant to corrosion

High heat strength

High resistance to spelling

Low penetration depth

Galaxy Enterprise makes PCPF blocks in its ultra modern manufacturing unit on imported machinery employing latest, state of the art technologies. We make PCPF blocks keeping mind the specifications of our clients and also industry specific requirements. This is the reason our PCPF blocks are appreciated by our clients because of their high quality and consistency.