Ladle Well Block Refractory Bricks Products India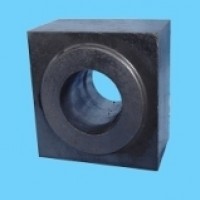 Ladle well block plays a crucial role in steel making process. There are many companies making these products in India but the name of Galaxy Enterprise ranks at the top among as ladle well block bricks manufacturers. This is because our product meets smelting process requirements easily and it does not become damaged even after years of continuous use. We manufacture high quality blocks that have a stable structure and possess excellent thermal shock resistance. Our products are also corrosion and erosion resistant and they provide a very long service time. It is because of these reasons that Galaxy Enterprise is become largest suppliers of well block products in India.

Ladle well blocks made by Galaxy Enterprise have a chemical composition of Al2O3+Cr2O3 and they also contain a little MgO and CaO. They have high compressive strength. Their lifetime is equal to or more than 80 heats. All products made by the company give high and consistent performance as they are manufactured utilizing only the best quality raw materials. All these raw materials are high density and high strength. We manufacture it in all shapes and sizes according to specifications of our clients.

Galaxy Enterprise also manufactures high quality ladle well block refractory bricks that are used for lining of these blocks. Our high alumina bricks for use in this lining have high tensile strength and they can withstand very high temperatures. These bricks have high antioxidant property and last for a very long time.