Fire Clay and High Alumina Bricks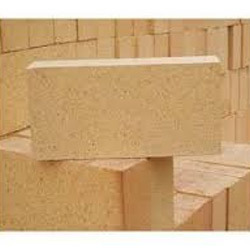 As their name indicates fire clay bricks are bricks that are made from fire clay and intended for use in places with high temperatures that ordinary masonry bricks cannot withstand. These bricks have many industrial applications as they can be used in operations requiring high temperatures.
Galaxy Enterprise has been making and supplying high quality fire clay high alumina bricks to its clients in many industries in India as well as in Bangladesh, Italy, Saudi Arabia, UAE, Israel, Turkey, Nigeria and South Africa. Fire clay high alumina bricks are bricks made of fire clay that also contain bauxite, an oxide of aluminum.

Our process to manufacture Fire Clay and High Alumina Bricks :
High alumina bricks require bauxite to be manufactured. Bauxite is a naturally occurring mineral which is also found in kaolin-tic clays. These two substances are taken as raw materials and roasted together to produce a high refractory material with a chemical formula of 3Al2O3.2SiO2.
This material is used to make high alumina bricks that find applications in not only kilns and furnaces but also cement, iron and steel, and glass industries. Our high alumina bricks are not only very hard and thermal resistant but also provide great electrical insulation.

There are many fire clay and high alumina bricks products manufacturers from India but clients prefer Galaxy Enterprise because the company supplies them with high and consistent quality bricks made as per their specifications and requirements. We offer these bricks with varying percentages of alumina and Fe2O3 and in different shapes and sizes.
Types of Products
High alumina firebricks

High alumina refractory bricks

Low creep high alumina bricks