Manufacturers of Refractory Mortar Cement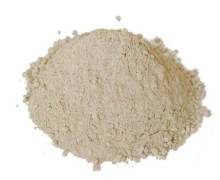 Mortar is a very important product used in industries where refractory bricks are used. Firebricks are placed to line furnaces in industries where high temperatures are encountered. Ordinary Portland cement cannot be used n such places as it shrinks at such high temperatures. This is why specially made refractory mortar is used to line furnaces with firebricks.
These mortars are not only easier to use but also provide better results in keeping the lining of furnaces intact for a very long time period. These mortars have a very high thermal resistance in addition to resistance to acids. They are also much superior in terms of compressive strength.
Galaxy Enterprise is one of the biggest manufacturers of refractory mortar cement in India. We supply different qualities of these mortars as per client specifications. Our mortars are non water soluble.
The mortar made by Galaxy Enterprise is actually a mixture of aggregates and clays that is held n place with the help of liquid silicate that acts as a binder. It is a ready to use mortar as there is no need t add anything while lining firebricks in a furnace. This mortar has a controlled setting time but just 10 seconds after it has set in, it is difficult to dislodge the firebricks form the lining.
Galaxy Enterprise makes three types of mortars that are as follows
| | | | | |
| --- | --- | --- | --- | --- |
| Mortar name | Setting | Grading (Mm) | Al2O3 (%) | Use |
| GR-70K | Air | 0-0.2 | 70 | Plate and nozzle |
| GR-95K | Air | 0-0.2 | 90 | Plate ad nozzle |
| GR-95H | Air | 0-4 | 94 | Ramming mass |