Ceramic Fiber Paper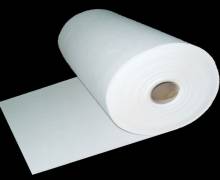 Ceramic fiber paper is a special kind of paper that is made using refractory materials. It mainly consists of alumina silicate fibers that are bound together in a non woven matrix with the help of a binder. This paper has very good property of not getting wet and it also has an excellent refractoriness.
Because of these properties, ceramic fiber paper is considered ideal for handling molten aluminum. This paper is also highly resistant to acid attack. Galaxy Enterprise is a respectable name among ceramic fiber paper manufacturers and exporters in Indian market as well as global market.
These product made by the company are used in various industries by the clients, especially in high temperature settings as this paper can resist temperatures up to 2300 degrees F.

Features of Ceramic Fiber Paper
Very low thermal conductivity

Great handling strength

Very low shrinkage

Flexible because of presence of organic binder

Resistant to acid attack

High thermal resistance

Immune to thermal shocks
Applications Area
Gasketing of Trough sections between zinc and aluminum

Tap out plug cover of aluminum furnace

Pan linings of aluminum distributor

High temperature application gaskets

Metal troughs back up lining

Fabrication and casting of aluminum

Ceramic fiber paper manufactures in India not only has low thermal conductivity and structural uniformity, it is also in very lightweight. This is reason why it is perfect for high thermal insulation. It resists corrosion and thermal shocks. These are the reasons it finds various applications in refractory and sealing conditions.