Porosint Insulation Bricks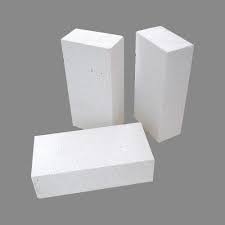 Porosint insulation bricks are made from refractory materials and they are known for their excellent thermal insulation and resistance to shocks. Galaxy Enterprise is one of the largest manufacturers of Porosint insulation bricks in India. Our bricks are known for their precise dimensions and durability.
Porosint bricks are special bricks that can withstand high temperatures, adverse weather conditions and heavy loads. This is the reason why these bricks are used in construction of strong structures.

Galaxy Enterprise manufactures Porosint bricks using very high quality raw materials that include high grade alumina. This alumina is procured from kiln manufacturers in China and used by the company to produce high quality Porosint insulation bricks. We make sure that all these bricks conform to ISO standards.
We manufacture Porosint insulation bricks in specified thickness and densities according to the requirements of our clients. Our bricks are used in various industrial applications, especially in imported roller kilns.

Features of Porosint Insulation Bricks
Have extremely low thermal conductivity

Can be easily installed using concealed anchor

Great tensile strength

Very low heat storage capability

Provide resistance to erosion because of gas flow

Help in maintaining accurate control over temperature

Can be given any shape by cutting

Porosint bricks made by Galaxy Enterprise are available in different dimensions and thicknesses. They can be delivered on time and packed according to specifications of the clients. Our bricks have a very smooth finish and they are very durable. They are also very competitively priced.