Steel Shots Manufacturing Foundries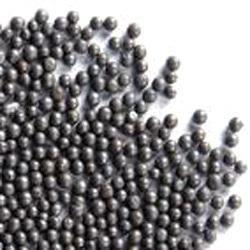 Steel shots are small granules of steel that are spherical in shape and obtained by a process known as atomization. These shots or small balls of steel are used as abrasives in many industries. They help in cleaning of surfaces of metals and compounds by taking off loose materials. They also help in cutting of hard surfaces such as granite.
Industries where these steel shots are mainly used are automobile, metallurgy, petrochemical, and construction. This procedure is called steel shot blasting and it improves the surface of the metal by cleaning and clearing it. Galaxy Enterprise is one of the largest manufacturers of steel shots products from Indian foundries.

Process of manufacture of steel shots
Galaxy Enterprise is one to the top manufacturers and exporters foundries of steel shots products in India. We manufacture premium quality products by melting steel scraps in a furnace and then pouring the molten steel into a ladle. This ladle is tilted to allow molten steel to fall into a cooling tank. The falling molten steel is hit by a jet of water that breaks it into tiny drops. These drop solidly quickly as soon as they enter the cooling tank.
This process of making of this product is called granulation or atomization. Our engineers keep monitoring the process and add Ferro alloys to maintain the quality of the steel shots so manufactured. Semi finished shots are made to undergo heat treatment to make them according to specifications of our clients.

Features of our Steel Shots :
Extremely hard

Very durable

Consistent performance

Maximum abrasiveness