Magnesia Carbon Bricks by Indian Company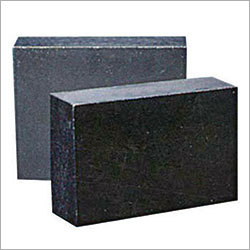 Magnesia carbon bricks are special type of bricks that are known for their ability to resist corrosion from slag and other compounds. It is a high performance refractory brick that is made using seawater with high magnesite content.
Carbon is added during manufacturing process to make this brick highly resistant to slag. These bricks are mainly used in basic oxygen furnaces and other industries such as iron and steel where operating environments can be arduous. Magnesia carbon bricks manufacture and export by Galaxy Enterprise are known for their ability resist thermal shock, oxidation, erosion, and corrosion.

Our Magnesia Carbon Bricks :
Our magnesia carbon bricks are high resistant to corrosion as we fuse magnesia sinter and magnesia grain to improve their corrosion resistance ability. We have the expertise to make all types of magnesia carbon bricks from the conventional pitch and resin bonded one to the most modern types of these bricks.
It containing sintered magnesia (97% MgO) and medium quality graphite having 95% carbon

These products containing high quality sintered magnesia (99% MgO) along with high purity graphite having 99% carbon

It containing high quality sintered magnesia and high purity graphite in addition to some antioxidants
Applications of Our Magnesia Carbon Bricks :
We are one of the largest Indian manufacturers and exporters company for magnesia carbon bricks products. Our highly specialized and high performance magnesia carbon bricks are used in various industries.
Slag lines of ladles

Lining of converter and electric arc furnaces

Cold spots and hot spots

We have the expertise to manufacture high quality magnesia bricks with varying ingredients according to specifications of our clients.